Hydrogenated Nitrile Butadiene Rubber
ARLANXEO's HNBR products, summarized under the Therban® brand, offer excellent properties wherever high temperature and fluid resistance is needed. The polarity of HNBR is directly influenced by the ACN content. Higher ACN increases the polymer's polarity and, therefore, resistance in non-polar media like oil, grease, fat, and fuels. HNBR combines excellent oil resistance with high-temperature resistance and excellent dynamic properties.
HNBR Product Portfolio
Designed for demanding applications requiring exceptional durability in aggressive environments, ARLANXEO's HNBR rubber Therban® offers many benefits, such as a high resistance to oil and grease, ability to function at temperatures from - 40 °C to 165 °C, superior performance in aggressive fluids such as power steering fluids, automatic transmission fluids, engine oils, diesel and brake fluids, a unique range of thermally stable grades with both partial and full saturation, ranging from 17 % ACN to 44 % ACN, excellent abrasion resistance, excellent ozone resistance for fully saturated grades. For partially saturated grades only if proper compounded.

Besides a variety of fully and partly saturated grades, the Therban® product portfolio also includes specialty grades Therban® AT and Therban® LT.
​​​​​​​
Therban® AT for improved processability 
With the Therban® AT grades, research scientists at ARLANXEO have achieved a breakthrough in process tech-nology resulting in outstanding benefits for both processing and product properties. Through a unique process, a series of linear low-Mooney Therban® grades has been developed that avoids problems typically encountered during the mixing and compound processing process. In comparison to regular HNBR grades, the low Mooney viscosity of Therban® AT leads to better mixing at lower temperatures and therefore to overall cost reduction. Due to the low Mooney viscosity of Therban® AT, the use of plasticizers can be reduced or – particularly for crucial compounds – even completely omitted. Thus significantly improved sealing force retention upon aging can be achieved. Therban® AT has significant benefits for injection molding and extrusion. Besides time and energy savings in processing, Therban® AT improves the quality of the finished article. Improved flow results in smoother surfaces and sharper edges.

​​​​​​​Therban® LT grades to cover all low-temperature requirements
​​​​​​​The acrylonitrile (ACN) content is a crucial factor determining the properties of Therban® compounds. High levels of ACN result amongst others in excellent oil and media resistance. However, at the same time low temperature flexibility is reduced due to the increase of the glass transition temperature caused by the higher ACN content. 
For several low temperature applications the flexibility and excellent compression set at temperatures below -30 °C are more important than volume swell in oil. The Therban® LT grade range has been developed for these applications. 
The Therban® LT portfolio has been expanded from 25 % ACN over 20 % ACN to 17 % ACN to meet all requirements. The optimal product for volume swell and low temperature properties can be chosen from this broad range.​​​​​​​
​​​​​​​
Therban® is the answer to your needs when low temperature flexibility is key for the product performance: 
- A broad range of Therban® grades for usage at temperatures below -30 °C 
- Balanced properties between oil resistance and low temperature flexibility 
- Full or partial saturation at 5.5 % 
- Mooney viscosity ML(1+4)100 °C from 39 to 80 MU 
- Optimal material available for every requirement
 
THERBAN® APPLICATIONS
Therban® is already indispensable in automotive systems, oil exploration, mechanical engineering and aerospace. Our research team is focused on extending this advantage.

Seals
​​​​​​​Therban® superior line of fully saturated grades with high heat resistance is suited to seal applications in automotive systems and heavy equipment. Our fully saturated LT grade Therban® LT 2007 provides an excellent combination of high and low-temperature performance, ozone and oil resistance and is ideal for long-term performance in off-the-road vehicle and automotive seals which come into contact with oil and grease.

Use Therban® for: 
- wheel bearing seals 
- shock absorber seals 
- camshaft seals 
- power steering assembly seals 
- O-rings 
- water pump seals 
- gearbox shaft seals 
- air conditioning system seals 
- fuel system seals for diesel and RME coolant seals

​​​​​​​Oil well specialties
High ACN saturated grades are best for low swell and explosive decompression resistance. This also applies to fuel and refrigerant applications. No other supplier offers a line of fully saturated HNBR grades that equals Therban® for performance.

Use Therban® for: 
- blow-out preventers 
- packers 
- drill-pipe protectors 
- pump stators 
- drill bit seals

Belts, hoses, mountings​​​​​
Therban® LT grades are especially suitable for applications where cold flex cracking is a problem, as in snowmobile belts. Therban® partially hydrogenated grades are the right choice in these dynamic applications. 

Use Therban® for: 
- air conditioning hoses
- timing belts
- engine mountings
- oil-cooler hoses
- torsional vibration dampeners
- boots and bellows
- chain tensioning devices
- fuel hoses
- overflow caps
- power steering hoses
- ship couplings
- high-pressure hydraulic hoses
- applications with a high dynamic load

Wire and cable
Medium-high ACN fully saturated grades are ideal for wire and cable applications.

Use Therban® for:
- protective components for electrical systems
- protective jackets for electrical cables and wires
- blends with EVM/Al(OH)3 for FRNC cable jackets with excellent flame-retardant properties and excellent low temperature properties

​​​​​​​Roll Coverings
Therban® AT grades are especially suited to high hardness roll applications; they combine high modulus and good dynamic properties with low compound viscosity and high abrasion resistance. All partially saturated Therban® grades from ARLANXEO are ideal for these dynamic applications.

Use Therban® for:
- metal-working rolls
- paper industry rolls
- printing rolls
- elastomer components for looms
- textile rolls
- rolls for transport of containers in aircraft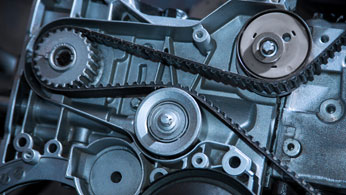 Therban® is ARLANXEO's high-performance elastomer HNBR. It displays excellent properties for engine components within automotive systems and heavy equipment.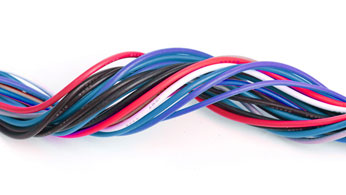 Wires and cable in the automotive and industrial sectors must safely operate under often extreme heat conditions. Protective rubber compounds must meet stringent standards.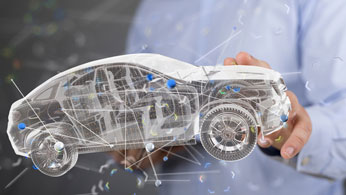 Be it in tires, performance parts for cooling systems, or brake pads, we are helping to make sure cars meet the sustainability requirements of tomorrow.